Namibia was five wickets down for only 69 runs in the thirteenth over of the match against Oman in the ICC Mens T20 World Cup Qualifier 2019 when JJ Smit came in the middle to join Craig Williams after Zane Green lost his wicket off Aqib Ilyas. An ideal situation for a bowling all-rounder, but not so smooth to steal some runs from an opponent team already dominating the field.
Yet, when the first innings finished, the score on the board was 161-7, with Smit smashing a blistering-59 off only 25 deliveries with a strike rate of 236.00, an excellent power show with the bat, and later on, 2-12 with the ball that helped Namibia secure much-needed victory by 54 runs.
That wasn't the only occasion when Smit starred in magnificent victories the Namibian Cricket team has gained throughout its tipsy-turvy journey. In fact, with his promising batting and bowling prowess, Smit is always keen to contribute something on the scoreboard to help the team win.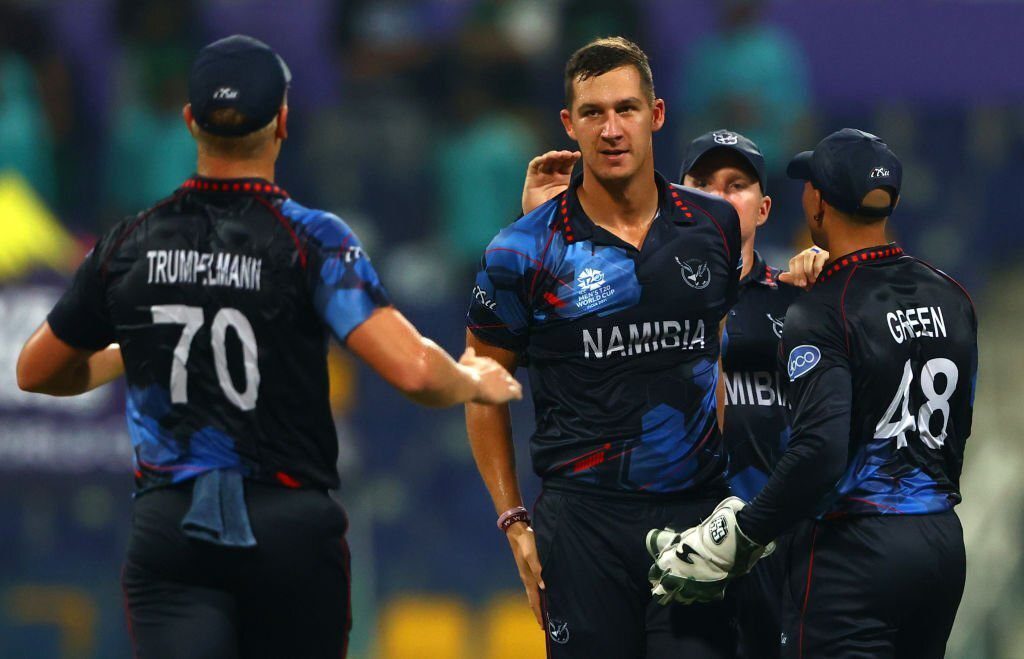 With such an indomitable spirit, he has been able to register his name on multiple record books with the bat, ball, or even fielding – 16th player with most catches in an innings, one of the highest career strike rate, 140.89, and most runs in an innings batting on 7th position in T2OI. ODI cricket isn't without his marks as well – he stands at the 6th number of best figures in an innings by a captain (5-26) VS Oman. In 2021, he joined the club of 'fifty and five wickets in an innings' in ODIs and became the 22nd player to achieve the feat.
He has earned a huge name for a country that lags far behind in cricket resources. With a population of 2.5 million people, Namibia has only five cricket pitches in the country, and the team trains at the same facility all year, and that too with old softballs.
However, despite such rock-bottom resources, their love for the game can be weighed by their performance in the recently concluded ICC T20 Mens World Cup, where they defeated Scotland, Ireland, and the Netherlands – teams far more experienced and rich in resources. Namibia couldn't end WT20 on a happy note, but with young blood like JJ Smit giving out their utterly best, it's just the beginning of a new era for Namibian cricket.
JJ Smit scored 276 runs in 14 T20I innings with an impressive average of 39.42 and a notable strike rate of 129.5, not to forget his shining performance with the ball, where he got nine wickets in 13 innings. The Namibian Cricket Board awarded him the Cricketer of the Year award for his role in the rising of the game in the country.
In twenty-six-year-old JJ Smit, Namibian youth has, for sure, found a hero which they idealize to follow.